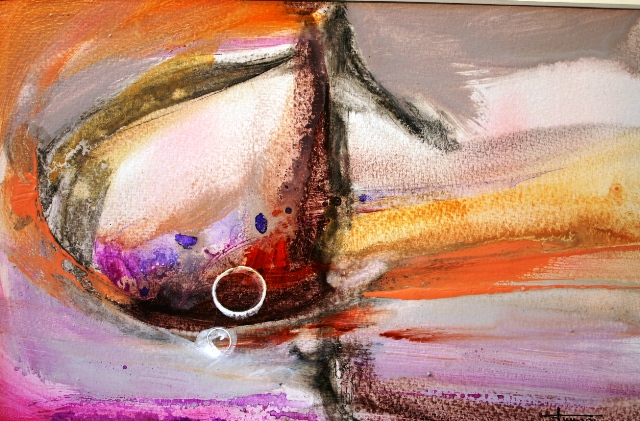 Self-taught artist of marked personal character, obsessed by color and composition that tries to
contribute, from researcher and existentialist approaches, new expressive and communicative
ways of art. Although his work is eminently pictorial, he also produces photographic work, poster
art, illustration and artistic design.
He is known for his desire to bring the world of art to the young people, through publications,
articles, conferences, educational and cultural programs, etc., activity that has taken him to
international forums of arts education as the "4th International Congress of Educating Cities" in
Chicago, as creator and coordinator of the Educational Program "Escola e Arte ".
He began his artistic career in 1980, exhibiting in the "Francisco de Goya" Prize in Madrid, and
since then he has carried out numerous projects and exhibitions. His work is represented in a
dozen museums and public and private collections, including the Thyssen Bornemisza Collection
and the Unesco Center in Porto.
He has held individual exhibitions in Madrid, Stuttgart, Ravenna, New York, Lisbon, Oporto, Seville,
Santiago, Santander, Vitoria, Vigo, A Coruña, Oviedo, Valladolid, Ourense, Pontevedra, Alicante,
Gijón, Cuenca, Valencia, León, Zaragoza , Barcelona, etc.
Parallel to his artistic activity, Mingos Teixeira has developed an intense academic activity in the
field of artistic education and creativity.
In 1984 he created and directed the "School of Technical Media for Artistic Realization" in his
hometown, forming, since then, numerous generations of children and young people, both in his
Academy and through the Educational Programs "Escola e Arte" "" Arte na Aula "and" Crea
"developed by the City Council of Vigo in its educational centers.
In 1996 "Escola e Arte" is presented at the World Congress of Educating Cities under the slogan
"The Arts and the Humanities as Agents of Social Change" being chosen model program to be
applied in the member cities.
The edition and publication of books, articles, teaching units, etc. about art and creativity
elaborated by Mingos, they are born as an almost obligatory response to try to give a greater
diffusion to the courses, lectures and didactic talks given both to the general public and to the
teaching staff through the Department of Education of the Xunta de Galicia.
The artistic criticism and the curating of exhibitions is another of the activities directly related to this
didactic activity that the artist has been accompanying with his creative work.