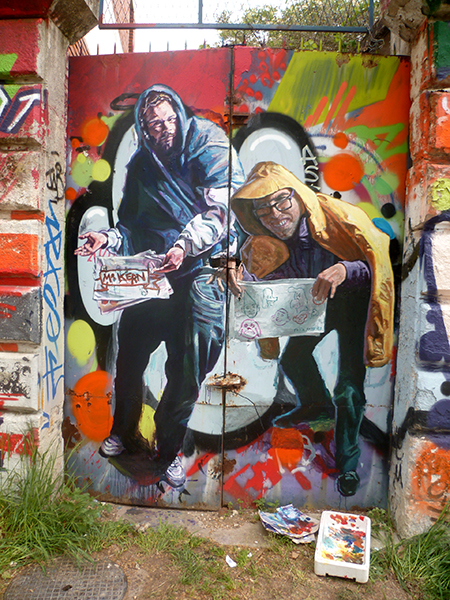 Mr Kern, whose real name is Mathia Liniado, (Buenos Aires, 1981) is a comic artist, illustrator and
graffiti artist.
He studied applied arts in Bordeaux and Barcelona (School La Llotja). Heir to such disparate
influences as the underground comics of the 80s, surrealist painting, urban art or the work of Diego
de Velázquez.
The artistic proposal of Mr. Kern wants to go beyond the visual, also appealing to other senses: "I
use a technique in which he incorporated pâté, which gives him a smell of the work, which makes
him also an odorama", for it uses different supports such as pizza cartons, frozen food boxes,
slippers, hard bread, any place is good to draw, create and transmit a message of humor.
In 2002 he published the book Le Cendart that contains pages of comics, portraits and some of its
graffiti walls.
He has participated in urban culture competitions and international exhibitions in London,
Luxembourg, Madrid, Barcelona, Seville and Manchester. About his work he says he is "tired of
how perfect we all should be" and that he is "tired of everything we like being absolutely round,
square and therefore beautiful".
In 2017 he began publishing in the French magazine Fluide Glacial. That same year, along with
Antoine Pinson, he published his first graphic novel, The Alain Lluch Case, a deranged fantasy
about marketing, food and capitalism.